Do you ever get gift-stumped? Maybe it's a hard to buy for person, or someone who has everything, or the clock is ticking and you just can't think of ANYTHING?!? Me too.
For me this year it's Mother's Day. I admit it – I need help. I also wanted to find a way to support some local businesses, so I reached out to the fine folks along 124 Street – and help me, they did! A number of their retailers were kind enough to send me their top Mother's Day gift ideas for 2018.
Jewelery & Chocolate. 'Nuff said, right? Is there ever a better gift than jewelery? Well, it turns out there is! Two local business owners and mothers, Cara Cotter and Jaqueline Jacek, teamed up to create this beautiful gift combo: The So Pretty Cara Cotter Dainty Legacy Pendant Necklace regularly retails for $123, but for Mother's Day, you can purchase the necklace, and a collection of decadent Jacek chocolates for just $100! Available online, at Cara's Studio, at Jacek locations, and at Cara's pop up store at Manulife place, May 8-12, 2018.
Cool kitchen gear. Whether shopping for a mom who loves to cook and bake, enjoys luxurious bath products, or wants to update her home with some stylish spring accents, Heart of the Home has Mother's Day gift ideas perfect for every mom. I love the bright, sunny floral theme of this collection: Measuring spoons $38, measuring cups $44, to-go mug $42, set of 3 tea towels $17, Be Happy mug $14. Available at Heart of the Home.
The bike-loving mom. I'm including this one simply because I think they are the cutest! I'm the bike-loving mom, and would love to receive any of these. Bike tray $62, bike mug $23, and bike napkins $5.95 & $7.95. Also available at Heart of the Home.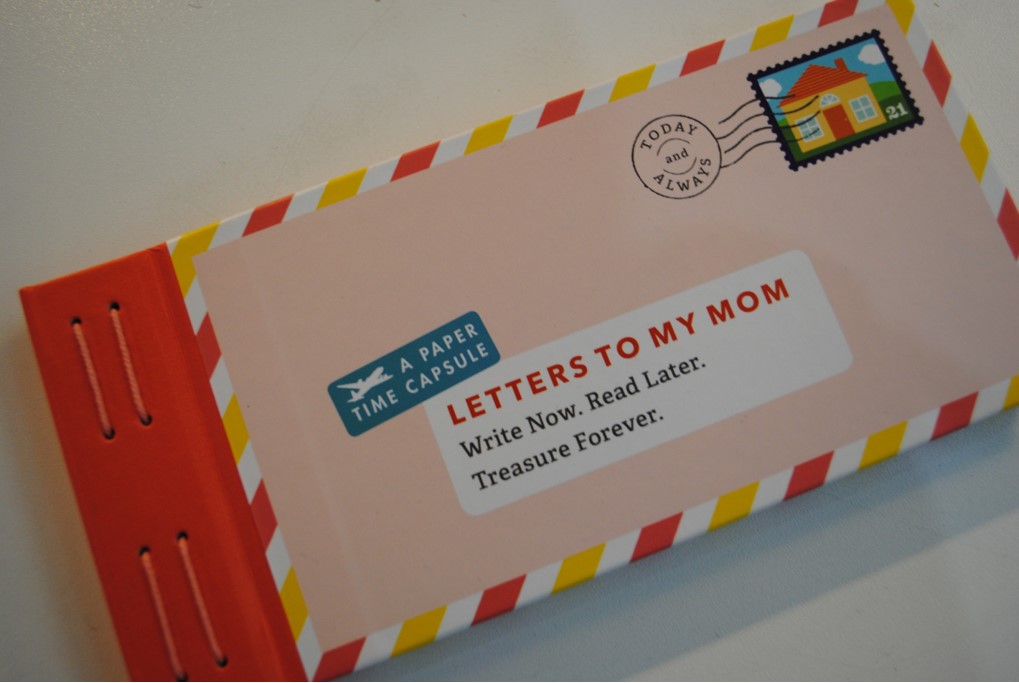 The sentimental gift. The Prints and the Paper has a truly unique idea – a book of letters a son or daughter can fill out, seal, and present to their mom – to be opened at a later date.  There are various themes like: "A Special Memory I have of You Is….", "From You, I Learned the Importance Of…",  and "The Best Adventure We've had Together Was…".  It's a keepsake treasury a mother will cherish. Available at The Prints and the Paper.
A moment of relaxation. Give mom a chance to sit down and put her feet up for a few minutes with a good cup of tea. Acquired Taste Tea has everything from classic English Breakfast to delectable creations like Blackberry Sage and Chili Pepper Chocolate. A tin full of tea is $10.42. Pair it with a little white teapot $12.00 or big glass teapot $35.25. The tea-themed art can even be purchased in-store! Available at Acquired Taste Tea.
The wordsmith mom. Parcel and Prose has the perfect gift for the mom who loves to put pen to paper – a set of personalized notecards. The cards are made by Love plus Design, a local designer of stationary and gifts, and sell for $20 for a set of 15 cards and envelopes. Personalizing can be done in-store for $16 for the set. Available at Parcel and Prose. 
The gift of a perfect fit. Who doesn't love a great-fitting pair of jeans? The team at Arturo Denim says Edmonton moms love to look great, shop local and buy ethically-made clothing that is well-tailored and stylish. All of their jeans are made in Canada and cost $150, which includes alteration and year-long warranty against normal wear-and-tear. Available at Arturo Denim.
The style-savvy mom. Shades of Grey Boutique has a couple great ideas for fashionistas. Their lovely Brushed Jersey Short Duster, $225, is a versatile and cozy cardigan perfect for spring evenings. Why not pair it will bracelets handmade by Edmonton jewelery designer Orange Avocado. They range from $65-$155. Available at Shades of Grey Boutique.
The earth-conscious mom. Bling has a huge variety, so you're sure to find something cool, like these Kuma bamboo sunglasses, $35, made by a green company out of Vancouver. A tree is planted for every pair purchased! Available at Bling.
Mother's Day Gift Ideas 2018
Many thanks to the retailers of 124 Street for sharing their gift ideas!
Website: www.124street.ca
Although we do our best to provide you with accurate information, all event details are subject to change. Please contact the facility to avoid disappointment.