Looking for an awesome way to spend some sunny summer hours? Here are our favourites, all in this handy Edmonton and area summer camp guide!
---
It's your chance to squeeze a little more Summer into your September! The fun of Camp Warwa doesn't end at the end of August – they offer two great September Weekend Camps. Family Camp runs September 15-16, while Fall Camp for kids in Kindergarten to Grade 12 runs September 29-30. Enjoy all your favourite summer activities, plus a few new surprises for fall! For more information, click here!
---
Dance Around the World in just one week at a Celtic Ceilidh Dance Academy Summer Camp! Dancers aged 7 and up, of all abilities, can try a little bit of everything in the Around the World Dance Camp. The week will include a taste of Highland, Irish, Ballet, Jazz, Tap, Ukrainian, Hip Hop, Pilates and even Musical Theatre! There's also a Mini Celts Camp for dancers aged 4-6, offering a taste of Ballet, Highland and Irish dance. For more information, click here!
---
Glide into fun this summer with one of the coolest camp ideas around! Learn to skate or improve your technique with Fliteway Figure Skating Club Summer Camps! Fliteway offers summer sessions of the Pre-CanSkate, CanSkate and Learn to Figure Skate programs, prefect for getting your child up onto blades, or for prepping them for a successful sports season this fall! For more information, click here!
---
Tumble into summer fun at Salto Gymnastics in Sherwood Park! Kids aged 5.5 and up can choose from 8 weeks of summer day camps, each with a different exciting theme. Each day includes time on the gymnastics floor, but there's much more! Every camp offers fun outings, field trips, arts and crafts, activities and of course, visits to the amazing Broadmoor Lake Spray Park, just steps away! For more information, click here!
---
Imagine the perfect summer day camp… Your child has a great time, engages in tons of active play and fun activities, gets to spend time outside and make new friends, and even learns something! That's exactly what you'll find at JumpStart Learning Centre Summer Camps. Each camp features an exciting theme, and is lead by a certified teacher. For more information, click here!
---
Put down the cellphone, tablet and game console and pick up some healthy habits this summer! CHANGE Adventure Camp encourages kids to not only get outside and get active, but to learn about how health eating fuels all their adventures. Participants will take part in a wide variety of new activities, and take an active role in meal preparation and cooking classes. For more information click here!
---
Enjoy historic fun in the summer sun at a Fort Edmonton Park Summer Day Camp! Time travelers of all ages will have a blast from the past – from discovering what games and toys pioneer children played with, to racing down the North Saskatchewan River in a voyageur canoe! Fort Edmonton Park offers half-day camps for 4 to 5 year olds, and full-day camps for kids aged 5 to 14 with exciting themes built around each of the eras represented in the park! For more information, click here!
---
Whether your kids are new to dance, or already have a passion for movement, Edmonton Dance Factory has a Summer Dance class or camp for you! Edmonton Dance Factory is a multi-discipline school that teaches Classical Ballet, Jazz, Tap, Hip Hop, Lyrical, Improv, Musical Theatre and Vocals. The goal is to provide dancers at all levels with a solid foundation, while they have a lot of fun! For more information, click here!
---
It's known as the camp for kids who love to write! For 22 years, YouthWrite Summer Camp has been providing aspiring young Alberta writers with a one-of-a-kind, immersive experience designed to spark creativity and feed the passion for putting pen to paper! Talented, professional instructors mentor writers using a multi-disciplinary approach to creative writing which includes performing, visual, musical, dance, film and written arts. For more information, click here!
---
As parents of teenagers know, you need to think outside the box to hold their attention. That's exactly what Sherwood Park's Festival Place is doing this summer with truly unique summer camp offerings for teens! Learn to juggle, tumble or even unicycle in Under the Big Top; jam with other musicians and prepare for a real, on-stage performance in Garage Band Live; or build industry-worthy computer skills in Video Production for Social Media. For more information, click here!
---
Spend summer enjoying a complete theatrical experience in a high-energy, positive and fun environment! St Albert Children's Theatre offers camps for creative kids aged 3-19. From theatre rookies to those with experience, there's something for everyone in their summer Drama and Theatre Production camps. Camps conclude with the excitement of a final, on-stage presentation. For more information, click here!
---
Ever dream of spending your summer at the zoo? What about going back in time at Fort Edmonton Park or John Walter Museum? Explore nature at the Muttart Conservatory or John Janzen Nature Centre, be creative at the City Arts Centre, or get fit at a city recreation centre. These are just some of the amazing options available with City of Edmonton Summer Day Camps! For more information, click here!
---
25 local theatre professionals are instructors at Foote Theatre School, which is Edmonton's oldest and largest theatre school. Your kids can take advantage of that incredible experience in their amazing Summer Camps, designed to teach physical, technical and creative skills in acting, musical theatre, comedy and even Shakespeare! There's a camp for every kid, from the theatre rookie, to intensive camps for those with theatre experience. For more information, click here!
---
Kids CAN cook, and we're not just talking about making toast. ATCO Blue Flame Kitchen Summer Cooking Camps will teach your kids important life skills like kitchen safety, food preparation and cooking techniques. They'll impress family and friends when they bring home samples of the gnocchi, pastries, enchiladas and much, much more they learn to make in these fun (and educational!) summer camps! For more information, click here! 
---
Summer is a perfect time to channel Mother Nature's inspiration to create your own beautiful work of art! Art Gallery of St Albert Summer Programs are perfect for every age and experience level. Choose from painting, clay or sunprints – or try variety classes that offer new themes and mediums every week! Have fun, be creative, and produce your own unique works of art! For more details, click here! 
---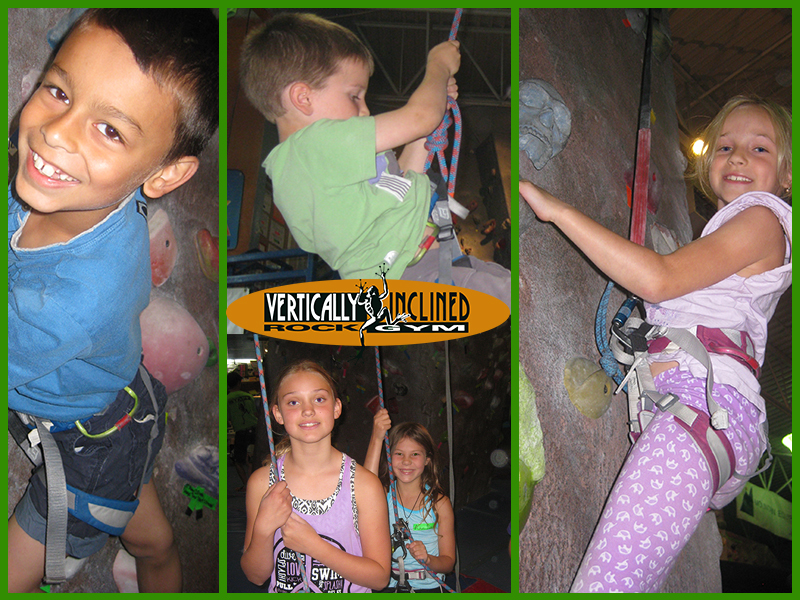 Think outside the vertically plane, and help your kids reach new heights this summer with a Vertically Inclined Summer Camp! Camps are open to kids aged 5 and up, and previous climbing experience is not necessary. Kids will spend their days climbing, and they get to enjoy other great activities too, like outdoor games, crafts and a swimming trip! For more details, click here!
---
Professional art supplies, a small group setting, plenty of individual attention and the chance to explore their talents and experiment with different mediums – that's exactly what you'll give your budding artist when you register for a Wild at Art Summer Camp! Choose from Learn to Draw or Learn to Paint, and get ready to watch their creativity grow! For more information, click here!
---
---
---
It's the camp experience you reminisce about from your childhood – days full of play, nights by the bonfire, and friendships to last a lifetime. A Lone Prairie Camp is the perfect place for kids and families to experience the nostalgia of summer camp, while reconnecting with faith in an iconic outdoor setting. With activities that range from art and archery to swimming and sports, there's something for every kid at Lone Prairie Camp. For more information, click here!
---
---
Launch a summer of educational and active FUN with a Summer Camp at the TELUS World of Science. Campers will make remarkable discoveries, create brilliant masterpieces, and explore new concepts, all while learning through exciting hands-on science. With everything from animals and dinosaurs to astronauts and robots, there's something for every budding scientist, and with half-day options for kids ages 4 to 5 and full-days for kids 6 to 14, you're sure to find the right fit for your family. For more information, click here!
---
Fun, fitness and freedom of expression come together for creative kids at a Marr-Mac Mini Summer Camp. Kids aged 3 to 7 will spend their mornings dancing, singing and crafting! Participants will explore creative movement, jazz, ballet and musical theatre under the guidance of Marr-Mac's experienced and energetic instructors. Marr-Mac Mini Summer Camps run from 9:30am-12pm – the perfect introduction to summer camp for these younger fine-arts fanatics! For more information, click here!
---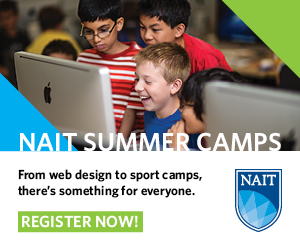 NAIT is known as a leader in the post-secondary scene – did you know NAIT also leads the way when it comes to exciting and innovative summer camps? Kids ages 5 to 17 can choose from a wide variety of camps, from sports and recreation, to culinary and digital media. Tweens and teens can even test drive potential future jobs with NAIT's Career Pathways Camps. There are plenty of great bonuses too – Campers get to enjoy NAIT's recreational facilities, can opt-in to the lunch program, and select camps offer field trips. For more information, click here!
---
Whether you're seeking an opportunity for your children to improve dance skills, or just looking for a way for them to be active and have fun this summer, a J'Adore Dance Summer Camp is a step in the right direction! They offer everything from ballet and hip hop, to making a music video, to Princess Power & Superhero Totz for the younger set! The team at J'Adore Dance is eager to inspire youthful creativity through their wide variety of exciting and educational summer camps for dancers aged 3 to 17! For more information, click here!
---
Everyone knows about the fantastic bike camps offered by Pedalheads®, right? But did you know they also have a program called Heroheads? Heroheads camps have a multi-sport focus with a superhero twist! Kids practice the Super 7 Skills: locomotion (run, jump, skip & climb), agility, throwing, catching, balancing, kicking & hand-eye coordination. As for the Pedalheads Bike Camps, whether your child is just learning to ride, or lives life attached to their bike, there is much to learn in the 1/2 day or full day camps. For more information, click here!
---
25+ years of soccer-teaching excellence! With more than 100 locations across Canada, the Royal Soccer Club is the #1 grassroots organization offering soccer day camps in the country. Organizers fill the days with lots of fun activities. Mornings are spent on soccer technique and game play, while afternoons are packed with fun leisure activities, including an optional swim! For more information, click here!
---
It's a classic summer camp experience set on the shores of Pigeon Lake. Camp Wohelo offers fun and friendship in an inclusive environment that promotes respect for all spiritual journeys, religions and beliefs. Alberta's original all-girls camp still offers the all-girls program, as well as a Moms and Kids camp, and a Family Camp. For more information, click here!
The Dance Theatre Performing Arts Centre
From Mini Camps for the tiny tots to week-long intensives for the serious students, The Dance Theatre Performing Arts Centre has options that are on point for dancers of all ages and skill levels. Great instructors make the difference at The Dance Theatre, where highly trained and experienced teachers share the goal of fostering a lifelong love of the arts in an inclusive, welcoming and supportive environment. For more information, click here!