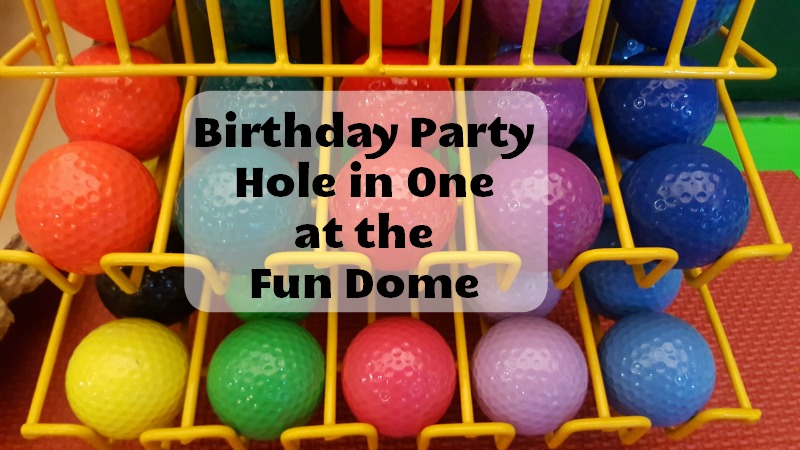 Giant inflatables for them, climate controlled for you, mini golf for everyone! A Fun Dome Birthday Party is a can't lose proposition.
After a brief hiatus from drop in play hours to focus on parties, the Fun Dome has reintroduced drop in play, and my kids are thrilled. Where else can you bounce on a giant inflatable and play mini golf? Before we knew we would be able to drop in during the week again, the begging for a birthday party at the FunDome had begun.
One of the things I love about not hosting a party at home is the fact that I don't have to plan activities to entertain the kids. At the FunDome we found this in spades. The children happily flitted from the mini golf course to the giant inflatable slide and obstacle course to the cozy tot room, newly outfitted with a game system for the older ones. The space is designed for kids from 1-8, and just about ideal for the preschooler set, although older kids will still get a kick out of the mini golf and inflatables.
A birthday party we recently attended was rained out, much to everyone's disappointment, and I couldn't help but feel relieved by the fact that we didn't have to worry about the elements at the FunDome. As it turned out, it was one of those beautiful late spring days we have been getting lately, and we easily could have hosted a party outside, but when you are booking weeks in advance, it is hard to know what to expect from our Edmonton weather.
Parties are offered on Saturdays and Sundays, and you don't have to share the space, although it's such a big space, you easily could! The package we selected included an hour and a half of play, and an hour in the attached party room for food and presents, all presided over by a dedicated assistant.  For summer 2016 the Fundome is offering 15% off the already reasonable price of their packages.
---
The Fun Dome is now PERMANENTLY CLOSED. For a list of other great indoor play places in Edmonton, visit the Family Fun Edmonton Ultimate Guide to Indoor Playgrounds.