Just south of Edmonton near the town of Millet is a pig filled paradise called Pigtopia Urban Farm. This lovingly maintained family farm is home to pigs of all different sizes and types, as well as goats and miniature horses. Offering interactive farm tours, it is a great place to escape the city and experience some amazing animals hands on!
Pigtopia is one of the few great things that has come out of Covid.  With most family attractions and activities closed in the summer of 2020, owner's Angela and James decided to start opening up their farmyard as a safe place for family and friends to enjoy some family fun.  As word spread, they started offering public tours and have slowly expanded Pigtopia's offerings over the past year – including birthday parties, camps and special events.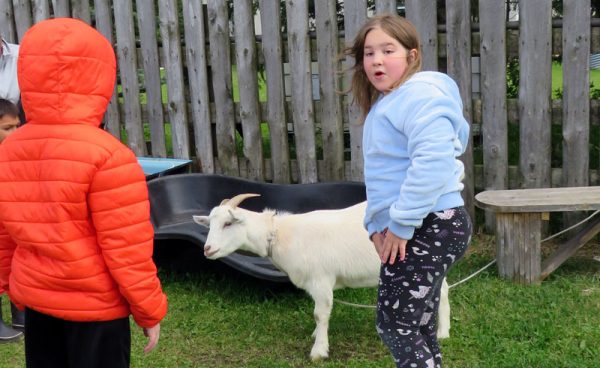 It is easy to see how passionate owner Angela is about her animals as she guides you through the different farm enclosures and takes the time to introduce each animal by name. These four legged mammals are so much more then just pets – they are family.  Through the tours she helps educate guests about pigs and present them as the loving and social creatures they are.  Guests are encouraged to spread the love by interacting with, petting, talking to and feeding the animals.
Your reward?  Plenty of snorts and snuggles!
And, if a tour of the farm is not enough to get your fill of piggies, Pigtopia also runs a Cuddle Club that lets you adopt and care for one of the pigs as your own! Join this group of volunteers to help socialize new piglets and ensure they grow to be interactive and playful members of the Pigtopia family. Adopters are encouraged to come spend time with their new pet as often as they can, giving plenty of belly rubs and snuggles to help the piglets feel loved.
Learn more about the Cuddle Club or book your Farm Tour today through the Pigtopia Urban Farm website.  The one hour long group tours cost $42.50 per family. (2 adults and their children) or $10 per single admission. There are also precut, fresh fruit and veggies available for purchase so you can feed the animals during your tour and make for a more interactive experience!
Pigtopia Farm Tours:
When: Friday, Saturday, Sunday & Monday
Time: Tour Time slots are 10:00 AM, 11:30 AM & 1:00 PM
Where: 48052 Range Road 262 Leduc County
Website: www.pigtopia.ca