From October 1 to 10, 2022, it is Dog Days at the Botanic Garden! For a couple special weeks at the end of the Fall season, you can bring your four-legged friend to sniff, explore and play at the University of Alberta Botanic Garden. While pets are not normally permitted, dogs (on leashes) and their people can enjoy the fall garden together on these special days.
Dog Days also happened to coincide with FREE kids admission, so last year we decided to take advantage and bring our dog Nova out on a family adventure. Normally we stick to the rule of "no family member left behind", but since our other dog doesn't play well with others he had to sit this one out. This allowed our old hound dog to lead us through the gardens at her pace, with plenty of time to sniff to her heart's content.
We started off our visit in the spectacular Aga Khan Pavillion.  This breath-taking space features Islamic inspired limestone and granite architecture with reflecting pools and a tumbling waterfall. Accented by thousands of species of flowers and trees, it is truly a sight to behold. I am not sure Nova fully appreciated the space, but she was happy to explore somewhere new and sniff a few other doggy pals along the path.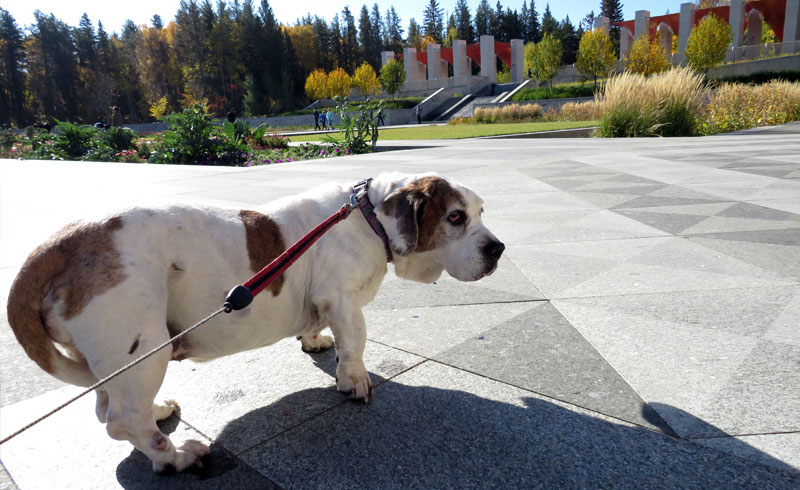 The Aga Khan Garden is definitely a highlight of any trip to the Botanic Garden, so I am not sure people realize just how much there is to discover in the grounds beyond it. It had been several years since my husband had visited, so it was fun to introduce him to some of the unique features the kids and I have discovered on previous strolls through the gardens. Some of our favourite spots include the Rapunzel-esque tower, David Thompson's cottage and the Indigenous Garden.
We finished off our visit in the Kurimoto Japanese Garden.  My daughter was excited to ring the giant bell and could have spent all afternoon watching the fish in the pond. It is a beautiful space, transporting you straight to Japan with its unique landscaping and architectural details.
I have had the opportunity to visit the botanic gardens in every season and I think fall is now my favourite.  I love the colorful flowers in the summer, but there is just something about those autumn colors and the crunch of leaves under your feet!
It was lovely to see so many other dogs and their owners out enjoying Dog Days at the University of Alberta Botanic Garden. Being able to bring Nova along was such a treat, especially when I realized it was the anniversary of the day we brought her home. At 13 years old she slowed down significantly, but that just means the rest of us were also forced to slow down and take in parts of the garden that we normally would have rushed through. There really is something to be said about stopping to smell the flowers!
Regular admission applies. As mentioned, kids admission is FREE from September 1 to October 10, 2022.
Dog Days at the University of Alberta Botanic Garden:
When: October 1 – 10, 2022
Where: University of Alberta Botanic Garden
Address: 51227 AB-60, Spruce Grove
Website: botanicgarden.ualberta.ca