Prince Edward Island, the gentle island cradled by the waves of the Gulf of St. Lawrence, may be Canada's tiniest province, but it sure is big on family fun. Most special? It has that flavour of something different. A lot of people have forgotten how to relax, but on PEI, they remember; they go for walks on the beach, no one is in a big hurry to get anywhere. Here are six must-do's when you visit this small but mighty province:
Anne of Green Gables

"Anne is real," my daughter once whispered to me in Cavendish, PEI as we peeked into the spunky fictional red-haired orphan's second storey bedroom in the 19th century Victorian farmhouse, the real-life inspiration for Green Gables. Here at Anne of Green Gable Heritage Place, it does feel like Anne could step from the pages of the book as we walk the Haunted Woods and Lovers Lane trails and see the storybook setting where author Lucy Maud Montgomery's footsteps once echoed. A costumed actor playing the beloved Anne is onsite. She's swell and always in character, as you wander the grounds and barnyards of this pastoral Parks Canada historical site. Be sure to check the schedule for special events, and after a wander around the trails, refresh with a raspberry cordial from the onsite snack bar.
Cow's Ice Cream

Start your ice cream slush fun now. PEI is synonymous with an addictive little phenomenon called Cow's Ice Cream, and if there's one thing your kids will ask for over and over again, this is it. It's hard to pick a favourite – Wowie Cowie, Cowrispy Crunch, Gooey Mooey? Fortunately, there are locations around the island, so you'll have plenty of opportunity to sample. Be sure to take time to check out the cow-themed wit and whimsical sayings on the t-shirts and other merchandise.
Unique Crossings

Visitors can arrive on Prince Edward Island by taking the Confederation Bridge, the man-made marvel which connects New Brunswick and the island, or via Northumberland Ferries, crossing daily from Caribou, Nova Scotia to Wood Islands, PEI. Both are spectacular. For me, I'm partial to the ferry. No matter how many times I come, once on board, it feels like I'm going somewhere special as that slow down and savour summer vibe takes hold. Stand on the outdoor deck and scan the horizon for sea life, or watch the sun paint the sky crimson. Certain crossings have music on board, and one ferry has a Cow's Ice Cream Shop. The bridge has an appeal too, and be sure to stop into the shops at Gateway Village, including Shop and Play for a chance to dress up as Anne.
Stroll Charlottetown
Do spend some time in Charlottetown, the genteel capital where two centuries ago prominent politicians docked on the waterfront, walked up Great George Street and went about the business that put in motion this country called Canada. Visitors can still make this walk up from the waterfront, in the footsteps of the delegates from the 1864 Charlottetown Conference. Today, they can also stop into Founders Hall or take a tour with the costumed actors, the Confederation Players. Charlottetown is also home to fantastic live theatre at the Confederation Centre of the Arts, including the Anne of Green Gables musical, in production for 51 years. Don't skip the free noontime performance by the Confederation Centre's Young Company in the outdoor amphitheatre. We Are Canadian is a dazzling showcase of Canada's rich cultural mosaic. Charlottetown's dining scene is also reason enough to visit (try Terre Rouge Bistro, Sim's Corner Steakhouse or any of the cafés in Victoria Row, the pedestrian only street). As the sun sets, don't miss a stroll around the waterfront shops of Peake's Wharf. The Hotel on Pownal, a centrally located property on Pownal Street, makes a good base. It includes breakfast, afternoon tea and treats, parking, and a complimentary Friday afternoon happy hour. Some rooms come with kitchenettes.
Sample Seafood
Lobster lovers will do well to steer down Route 6 towards Covehead Wharf in search of Richard's Eatery. The red two-storey building overlooking the wharf and Prince Edward Island National Park looks a little nondescript at first glance, but judging from the number of patrons queuing for fresh seafood, this is one lobster shack you don't want to miss. The lobster roll is legendary, and what better way to enjoy it than outdoors on the patio in the sunshine, washed down with a local PEI craft ale.
Beach Bliss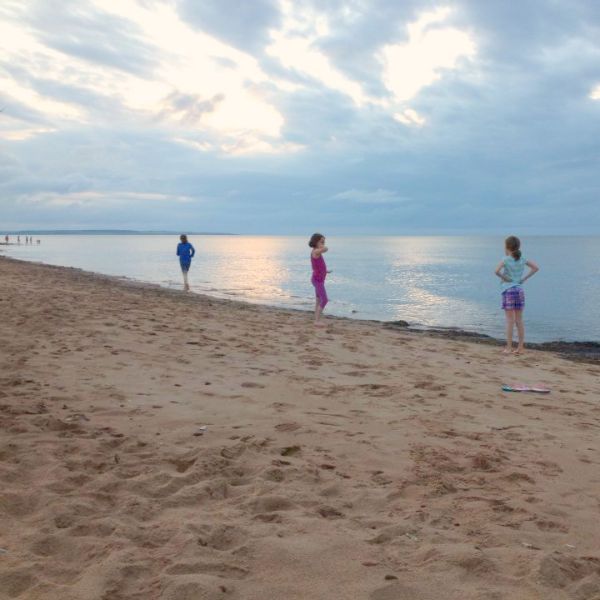 With over 90 spectacular beaches tucked into a scant 5,660 square kilometres, and soul-nourishing coastline, it's easy to find your beach bliss all across the island. In PEI National Park, Brackley and Cavendish beaches will remain in your heart long after you've left. Parks Canada has an island artist stationed on the beach here several times a week, leading a terrifically tactile sandcastle building session. Be sure to bring your bikes. The flat, easy, paved Gulfshore Parkway parallels the beach. You can breathe in the refreshing sea air as you pedal the coast.