"I just had the best turtle encounter of my life," says my dripping wet husband standing over me, as he waves his snorkel and mask excitedly. That's an impressive statement, especially since he and our daughter saw a green sea turtle come up to shore a mere two days ago. But magical things are known to happen on Maui and these awesome aquatic adventures are but a few of them.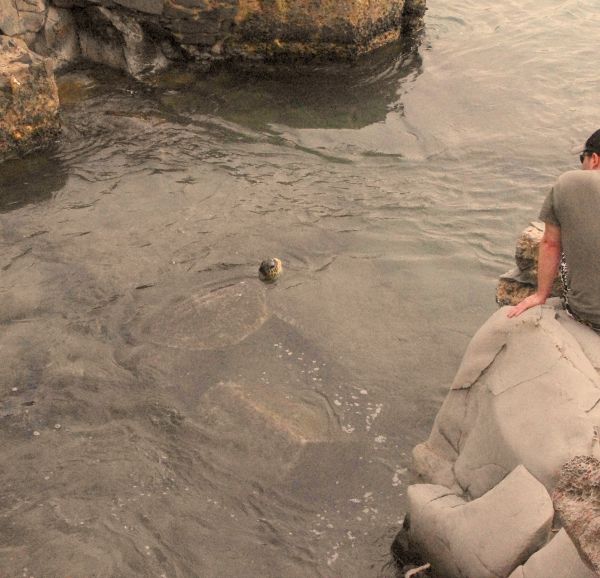 We're on the beach in front of Makena Surf, a Destination Resorts Hawaii property in Maui's posh Wailea area. In the past three years, we've stayed at 14 different properties on four Hawaiian islands. We're certainly not experts, but we've experienced a fair bit and these final days are a fitting end to our Hawaiian adventure. 
Tropical Paradise
At Makena Surf, you'll find seven three-story bungalow-style buildings in a private, gated beachfront retreat on secluded Pa ipu Beach. Though the resort is 30-years old, you'd never guess it. The two- and three-bedroom vacation condos all sport spacious glass balconies with incredible ocean views. Our lanai (that means balcony in Hawaiian) even had it's own BBQ, making mealtimes a real treat, especially while watching the sun sink slowly into the Pacific.
Within the 10 acre property that hugs the coastline there are two pools, four tennis courts and a barbecue area nestled among tropical gardens. Meandering along the cobbled paths through the lush gardens, you'll come across delightful surprises including herb gardens, golf putting green, picnic areas and even an ancient culture site.
Want to live like a local? Simply take advantage of the herb garden and pluck fresh rosemary, basil, chives, thyme and cilantro to liven up your meals. There are farmers' markets and the local grocery store to stock up your home- away-from-home.
Villa Life
I don't think I've ever had the pleasure of staying inside such a spacious condo. These units are perfect for large families or big groups traveling together. You can easily entertain a crowd both in the open concept living and dining area or on your lanai. The kitchen is fully equipped with refrigerator/freezer, dishwasher, stove/oven, microwave, coffee maker, blender and toaster. There's even a washer and dryer in the unit, with all the necessary detergent and supplies. But that's not the best part. Best is the en-suite bathroom that has a pocket wall opening up to the balcony and stunning ocean vista beyond. 
With the in-room binoculars we combed the horizon for whales and were rewarded several times with sightings of a mama and her baby breaching. From our lanai we looked directly onto the beach, and I can't tell you what a relief it was to be able to spot my husband and daughter up on the balcony, while I splashed about in the waves. While no beaches in Hawaii are private, this one feels quite secluded and is quite flat, with no sudden drop off in the water. Days were spent happily making sandcastles, boogie boarding and snorkeling along the coastline looking for those elusive green sea turtles.
Good to Know
Makena Surf is not a hotel. You'll pick-up your villa keys at the Wailea Gateway Shopping Center. There's no restaurants on site and while there are tennis courts, you need your own racket in order to use them. Still, there's maid service twice a day and if you have a night flight, they were very accommodating with late check out for us and another family we met.
Many resorts in Hawaii (and around the world) have started charging that annoying resort fee. Not here. You'll receive beach chairs and towels, free wi-fi, free local calls and even $155 in resort credits for dining and spa services. I'm no golfer, but guests received preferred rates for golf at all Wailea courses and tennis at the Wailea Tennis Center.
Despite lofty ambitions of running every day and playing tennis, my exercise regime at Makena Surf consisted of floating in the ocean and snorkeling along the reef. If you also want to have the best turtle encounter of your life, take this as your cue to get to this tropical paradise.
P.S. You might enjoy also reading 7 Family Activities Not to Miss on Maui or Hawaiian Canoeing with a Hottie (and I'm not referring to my husband….)